Building B - The Student Housing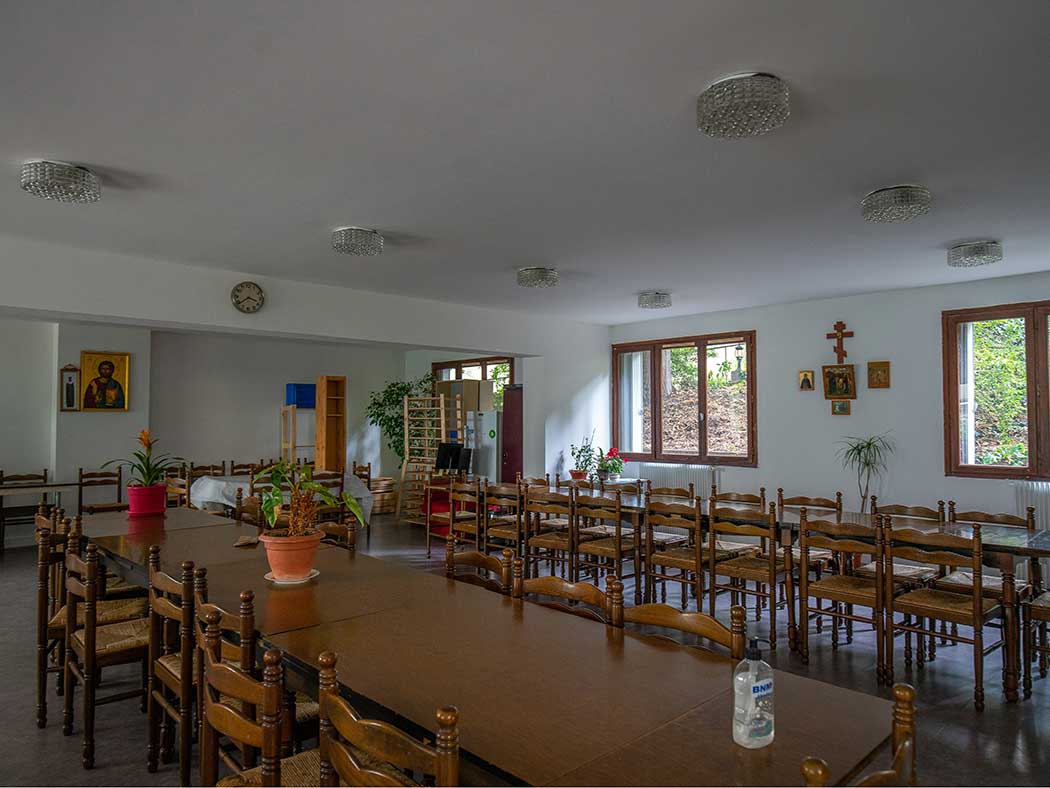 Refectory of the student housing
© Photo André Serikoff
Fourteen rooms, two staff apartments, a large refectory and a collective kitchen made up this vast complex, which unfortunately had to be evacuated from its inhabitants due to significant water damage. This was curbed thanks to the complete refurbishment of the roof terrace that covers the building, with insulation brought up to standard and the installation of new paving "on studs" and a raised railing. This railing is clad in openwork painted sheet metal in the colors of the wooden staircase of the nearby Church. All that remains is to cover the acroterion with a metal protection to ensure optimal waterproofing.
The gardeners have enriched the terrace with planters with trellises. For the aesthetics of the place, it would also be necessary to remove the amateur radio antenna, which dominates the site.
Before proceeding with the interior renovation, it was necessary to carry out the essential asbestos removal from the building (the asbestos was nestled in the glue of the lino) as well as various upgrades (smoke extraction, evacuations, fire safety). To date, it has been possible to renovate the ground floor with the refectory and the toilets (upgraded to PMR standards - Persons with Reduced Mobility), as well as the 10 bedrooms on the first floor. After a one-year delay due to Covid, these ten student rooms have all been rented for the start of the school year in September 2021, thus ensuring a regular flow of resources to cover the expenses of the hill. These rooms are rented on the Paris market by the ORPI agency on rue de Crimée, with priority given to ITO students.
To complete the renovation of the foyer, it is necessary to renovate the second floor, renovating and transforming the two apartments and the 3 existing rooms into ten student rooms.
Fortunately, the foundations of the building seem solid, as confirmed by the studies carried out, but the crack between this building and the retaining wall will have to be treated (it is currently monitored by fissurometers on the crack and laser targets on the wall). The external thermal insulation and the glazing are to be redone.

Work Completed
Refurbishment of the roof terrace
Bringing the student housing up to standards (smoke extraction of two skylights, two French windows for evacuation + entrance gate, renovated fire station)
Renovation of the fireplace room and shared toilets on the ground floor , with toilets for the disabled
Renovation of the first floor with 10 student rooms and individual showers, with code-locked access door to the ground floor installed on the ground floor foyer)
Asbestos removal of the entire household
Fiber optic installation since back-to-school 2020 (with patch cabinet to supply the entire hill, installed on the ground floor of the foyer)

Work in Progress
Surveillance de la fissure mur de soutènement et du mur lui-même
Refitting of the small kitchen

Work to Be Done
Monitoring of the crack in the retaining wall and the student housing
Covering of the acroterion with a waterproof metal seal
Restoration of the terrace aedicule (roof, exterior insulation, storage door and interior repair)
Complete renovation of the second floor with refitting of 10 bedrooms
Refurbishment of the waste water network (1st phase of the global hill project) between the red cottage, the student housing and rue Meynadier
Refitting of the building's exterior insulation
Dismantling of the amateur radio antenna
Installation of double-glazed windows
Installation of an automatic gate on rue Meynadier
Renovation of the controled ventilation and adaptation to new uses (individual showers and toilets)
Installation of a shelter for two-wheelers in the courtyard on rue Meynadier